Don`t let the dog days of summer get you down. This article offers helpful tips from our lighting and ceiling fan expert on how to select the right ceiling fan that fits your space and keeps you cool.
The dog days of summer have officially begun. These are the days when the electric bill makes you sweat more than the afternoon sun and when you wish your ceiling fans could kick into supersonic mode.
But here's the thing … if you have the right fans hanging in your home, you don't need to sweat bullets at the thought of turning the A/C down a degree. You don't have to fret about the fan not giving off enough air. Don't stand for old fans bringing you down.
Here are five tips from Hacienda Lighting fan expert David Pritchett Jr. that will not only make the fan buying process easier, but will make your life a lot cooler.
Size Matters
Both the size of the room and size of the fan matter when it comes to moving air. All ceiling fans are not the same. Not even close. Total blade lengths range from 24" to 96". So, how do you know which size is right for you? Here are simple steps to choosing the properly sized fan for your space.
1. First, consider room size. The following is the recommended fan blade span according to the room size. Remember length x width = room size in sq. feet.
80 sq. ft. or less – 24"-42"
100-150 sq. ft. – 44"-50"
150-300 sq. ft. – 52"-60"
300 sq. ft. – 62" or 2 fans
2. Next, measure the ceiling height. This is very important. You want your fan blades to measure at least 7' off the floor, ideally 8' off the floor. Fans come with at least a 6" downrod. So if you have a 9' ceiling, there will be no need to order an additional downrod. Here is a quick rundown of recommended downrod length by ceiling height.
8' Ceiling – flush mount or hugger fan
9' C – 6" downrod
10' C – 12" downrod
11' C – 18" downrod
12' C – 24" downrod
14' C – 48" downrod
15' C – 60" downrod
Tip: Don't try to guess the ceiling height by eyeing it. What to the human eye looks like a 20' ceiling is often actually a 14' high ceiling.
Don't worry about a vaulted ceiling under 32 degrees. Many downrods are sloped ceiling adaptable right out of the box, however those that aren't will require a sloped ceiling mounting kit.
Let the Heart Beat
The motor is the heartbeat of your fan. It's important to get the best motor in order to avoid annoying noises and operation failure. In the past, fans only had AC motors. But DC motors have now entered the playing field and generate more torque, consume less energy and produce less heat. They also tend to be more silent.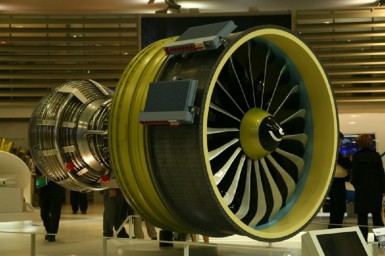 Integrate Light
With innovative fan designs emerging as we speak, the old four bulb light kit that shines right into your eyes is no longer the standard. In fact, many brands are turning to integrated lights in their fans to make for a softer look, while still allowing the light to shine down upon the room. Here are the three main light sources in modern ceiling fans:
LED: The average lifespan of an LED bulb is 50,000 hours and consumes a small amount of energy. They emit warm and cool lighting depending on the lumens.
Halogen: With an average life of 1,500 hours, halogen bulbs tend to emit a warmer light than their fluorescent counterparts and use less energy than incandescent bulbs.
Fluorescent: CFL bulbs have a lifespan of 10,000 hours and use 75 percent less energy than incandescents, however they do contain mercury so it's important to handle and recycle properly.
You Are In Control
Not all fans come with a remote or wall control. Be aware of what comes with the fan you choose.
Pull Chain: The most basic of the fan controls, the pull chain is good for small rooms with low ceilings like the kids' rooms or the den.
Wall Control: Many fans come with a wall control, which controls the speed, direction and lighting right from the wall switch. Ideal for high ceilings.
Remote Control: The handheld remote is the most convenient of the control options. It's lightweight and portable and can usually be operated within a 30-50 ft. range. Great for living rooms, bedrooms and high ceilings.
Enhance Room Décor
Traditional, contemporary, rustic, industrial … adding a fan is an easy way to enhance any room décor. That's right, any room décor. From nurseries and yoga rooms to tropical-themed patios and French country porches, if you look through enough catalogs and browse the website, you are sure to find the perfect style to match your room design.
Other Considerations
Also keep in mind location. Dry-rated fans must be placed indoors, no matter what, even if you have a protected outdoor area. Turn to UL damp- and UL wet-rated ceiling fans for outdoor locations. You don't want to find warped blades, rusted motors and melted fans because you ignored the location-based ratings.
Are you adding a ceiling fan where a light fixture typically goes? If your junction box is not weighted for at least 25 lbs., you'll want to either replace it or add a fan brace.
Keep an eye on blade pitch (angle). Some less expensive fans at big box stores trick you with a 12 degree blade pitch and a lower price. The problem is, the blade pitch is too flat and the air doesn't move as well. You should choose blades with a minimum 14 degree pitch to efficiently move the air.
With the right fan, you can keep cool, save money, and create a focal point for your room. Fans styles range from contemporary to Victorian and can include multiple light sources, but you may need expert help to put all the pieces together. Consult our store to be certain you get the perfect fan to fit your space.