At Hacienda Lighting, we know how important first impressions are, and when it comes to your home, nothing makes a better first impression than the perfect outdoor lighting. When people arrive at your home for a party, or they're simply walking by in the evening, you want them to stop, look at your house, and see how beautifully it is illuminated.
If you're looking for new outdoor lights, or you have a new design in mind for your home, then we hope this page will help you find some ideas. When you're ready to look at lights for yourself, you can visit our showroom!
New Exterior Lighting
Many outdoor lighting designs begin with the fixtures on the porch and on the garage. You want your entryways and walkways to be lit up during the night so that people can see your home and safely navigate your property. You also wanted to be welcomed home in the evening by the warm, soft glow of your porch lights.
When designing your exterior lighting, it's important to keep in mind a few things. Are you building a new home, or simply updating your current property? Do you want to focus on the front yard, the backyard, or both?
A New Home
With new home construction, you have a blank slate when it comes to outdoor lights. You can design any layout you want, and choose the fixtures that best suit your vision. It's important to be flexible with your plan, however, since things could change, such as where the sidewalk is located or how far the porch extends from the house. At Hacienda, we can provide you with a list of typical lights that are included in new home construction, and we'll gladly help you narrow down your choices.
Your Current House
If you're thinking about updating the outdoor lights on your current home, then styles are often a good place to start. Perhaps you have Rustic- or Mission-style fixtures on your home, and you want to swap those out for Victorian or Restoration options. The two things to keep in mind when choosing new exterior lights are size and efficiency. Will your new lights be bigger or smaller than your old lights? Will they provide the amount of light that you need or that you're used to in your yard? For efficiency, you'll want to make sure that running the lights won't cost you more each month when you get your energy bills. You can also look at new fixtures that use outdoor-rated LED bulbs, since those bulbs can drastically decrease the amount of energy it takes to run your outdoor fixtures.
The Front Yard
The front yard is obviously where people see your home for the first time. When they park on the street or walk up to your house, you want them to be greeted with a well-lit sidewalk, an illuminated porch, and accent lights that showcase your home's design and architecture. By installing the proper landscape lighting, pathway fixtures, and entryway lights, you can set the mood for the entire property. Think of your front yard as the first taste of your home, a sampling of what people can expect when they walk inside or continue through to the backyard.
The Backyard
When it comes to the backyard, you can make the lighting a bit more personal. After all, this is where you're going to spend the majority of your time outdoors. Many homeowners want to make their backyard an extension of their indoor living space, complete with seating, dining, and entertainment areas. You want this space to be more intimate, which means selecting fixtures such as post lights for your deck, string lights for your patio, and outdoor sconces for the rear of the garage. You want people to feel comfortable in your backyard, and whether you have a pool, a gazebo, or a deck, lighting plays a very important role.
Lighting For Ambience
"Ambience" refers to the character or atmosphere of a space, and when it comes to outdoor lighting, you want to have the perfect setting for any occasion. In the front of the house, you want the lighting to make your home inviting, and for people to feel welcome when they approach. In the backyard, it's all about comfort and relaxation. Choosing the right fixtures and bulbs can create a space where people can sit down and forget about their worries for an hour or two as they enjoy food and drink with friends.
The right ambience comes from the appropriate placement of your outdoor fixtures, as well as which bulbs you use. You want to make sure that you have plenty of light for each outdoor space, but you don't want to overwhelm any one area with too much illumination. For example, two outdoor sconces on either side of your backdoor can help people see as they go into or out of the house, and the warm glow of the light will splash against the exterior of your house.
As for the bulbs, you'll want to select those on the lower end of the Kelvin (K) scale. Warm white bulbs will fall into the 2000K to 3000K range, and they'll give off that cozy, inviting glow that you want your outdoor lighting to have. You don't need the same temperature for every bulb, but it's good to be consistent whenever possible. Your pathway lights will likely be different from your porch fixtures, but you don't want a drastic change in lighting between your walkways and your front entrance.
Lighting for Safety and Security
Another important factor to keep in mind when it comes to your exterior lights is keeping your property safe and secure. Outdoor fixtures that come on each night let people know that you're home, and can deter trespassers. You also want to make sure that people can see where they're going after the sun has set, and the right lighting in the right places can help prevent tripping hazards or slip-and-fall accidents.
Security lighting doesn't have to fall in the same color temperature category as your normal outdoor fixtures. Brighter, whiter light that falls in the 4000K to 6500K range can be great for motion sensor lighting. You can install these fixtures on your garage or on the back of your house to pick up any movement after dark, or to help you see as you pull into the driveway at night. Just make sure that they don't come on when they shouldn't, or that they interfere with your ambient lighting.
Choosing Your New Outdoor Lights
The process of choosing your new outdoor lights can seem overwhelming, but with the help of one of our certified experts, you can select the perfect fixtures in no time. It can prove useful to break things into categories and spend time looking at each one.
Entryway Lighting
A single porch light is often the first thing you think of when you look at "entryway" lighting, and that can be a perfect place to start. However, if you have an extended or wraparound porch, then you're going to want to install some flush or semi-flush mount fixtures along the porch ceiling. Since it is Arizona, you can opt for outdoor ceiling fans that have light kits. That way, you can keep the porch cool during the day and have the perfect lighting during the evening.
Hanging Fixtures
Outdoor chandeliers and other exterior hanging fixtures are becoming more popular each year, and there's likely an option that you can find for your yard. A small chandelier can be the perfect choice for a gazebo or covered patio, and there are outdoor pendants that are ideal for seating and dining areas. If you have a pergola in the backyard, then consider hanging lanterns from it for the perfect ambient lighting.
Landscape Lighting
You might be extremely proud of your yard, and if you go to great lengths to keep it looking great, then you want people to appreciate it even after the sun has set. With the right landscape lighting, which can include well lights, pathway fixtures, and step lighting, you can illuminate your yard and make it stand out. Accent lights near your trees and shrubs can highlight your greenery, and spot lights can show off any unique design features your home has. There are countless landscape fixture options to choose from, and we'll gladly provide guidance when you need it.
Recessed Lights
Recessed lighting is often reserved for the living room or kitchen, but it does have its place in your outdoor areas. You can add recessed lights to your porch, placing them between your hanging lights or ceiling fans. If there's a covered area behind your garage, then that can be a great place to utilize recessed fixtures. While you may not use lots of recessed lights, they can be beneficial to your outdoor lighting design.
Outdoor Lighting Controls
The final components of any exterior lighting plan are the lighting controls. It's imperative to have the right switches, sensors, and timers so that your outdoor lights work how they're supposed to and when they're supposed to. If you're going to be gone on vacation, then you want your lights to come on at the same time each night. If you're going to be in the backyard entertaining guests, then you want to be able to turn on certain lights, while others remain off. Dimmer switches can be important as well, since you want to be able to set your lighting at the proper levels for dining, conversation, and other activities.
Visit Our Showroom Today
If outdoor lighting has been on your mind, either because you're building a new house or you want to update the fixtures that you currently have, then Hacienda is here to help. With our years of experience, we can take your design ideas and help you find the perfect fixtures for any setting. You may want to improve the front yard with new landscape lights and porch fixtures, or you may have the perfect idea for a backyard oasis. Whatever the case may be, our showroom is filled with amazing options, and we know you'll find fixtures that match your tastes.
Our showroom is easy to get to, as it's conveniently located on North 91st Street, just off of Pima Road. When you visit, be sure to bring any design plans and ideas with you so that we can reference them while we look for fixtures that fit your vision.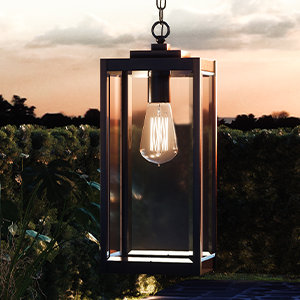 Find Inspiration and Build Your Wish List
Before you come to our showroom, you can browse our online catalog and find inspiration for your new exterior lighting design. Once you find a fixture that you like, you can add it to your Wish List. Once your list is complete, you can come to our store and we'll access the list with you, looking at all of the fixtures that you chose. You can narrow down your final choices based on size, style, and/or price, and we'll gladly provide suggestions, should you need them. Above all, we want you to walk out of our showroom feeling confident that you made the right decisions.
At Hacienda in Scottsdale, we're committed to helping every customer create the perfect outdoor lighting design for their property. No matter how big or small your home is, or how new or old it is, there are lighting options that can transform it. Once everything is installed, people will stop and take it all in as they approach the front door, and when they step into the backyard, they'll be amazed at how inviting each space is. We hope that this page has given you some insight into how you can choose your new exterior lights, and when you're ready to shop for new lighting, we hope that you'll choose us. We're always ready to take on a new project, and there's nothing we love more than seeing someone discover the perfect lighting.
We look forward to seeing you soon!